Versace opens the new boutique in Florence
by Luuk Magazine – March 16th, 2019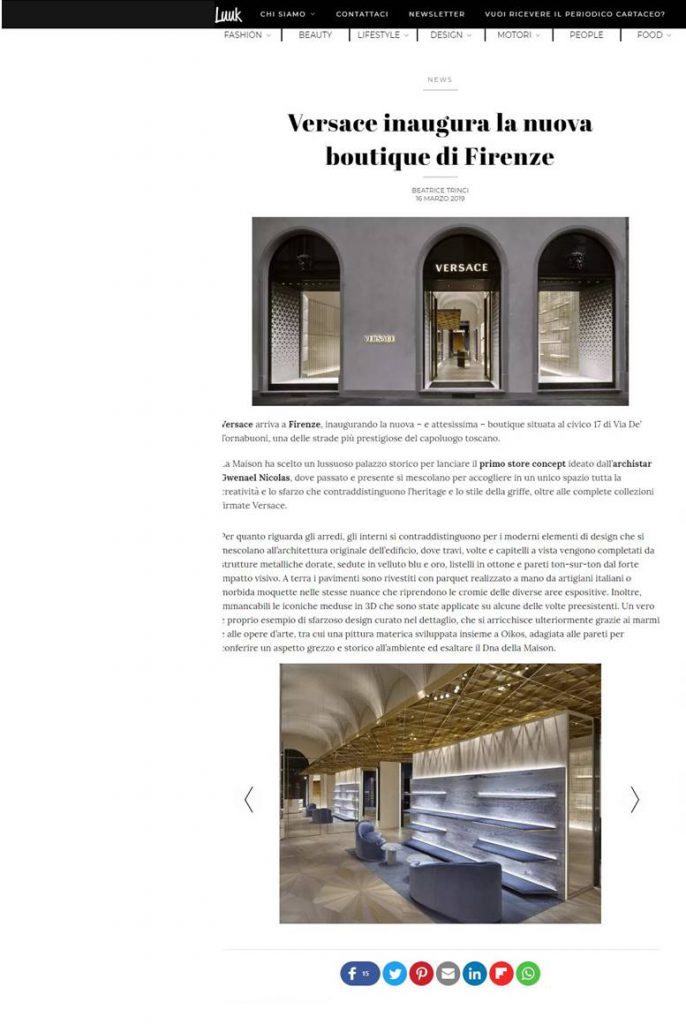 Versace arrives in Florence, inaugurating the new – and highly anticipated – boutique located at number 17 of Via De 'Tornabuoni, one of the most prestigious streets in the Tuscan capital.
The Maison has chosen a luxurious historic building to launch the first store concept conceived by the archistar Gwenael Nicolas, where past and present blend to accommodate in a single space all the creativity and pomp that distinguish the heritage and style of the brand, in addition to the complete Versace collections.
As for the furnishings, the interiors are characterized by modern design elements that mix with the original architecture of the building, where exposed beams, vaults and capitals are completed by golden metal structures, seats in blue and gold velvet, strips in brass and ton-sur-ton walls with a strong visual impact. On the floor the floors are covered with parquet handmade by Italian artisans or soft carpeting in the same nuances that reflect the colors of the different exhibition areas. In addition, the iconic 3D jellyfish that have been applied to some of the pre-existing times are inevitable. A real example of lavish design with attention to detail, which is further enriched thanks to marbles and works of art, including a material painting developed together with Oikos, lying on the walls to give a rough and historic look to the environment and enhance the DNA of the Maison.