Versace changes the image and layout of its stores
by Fashion Network – 26 November 2018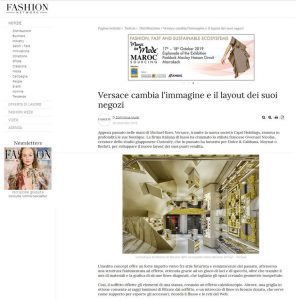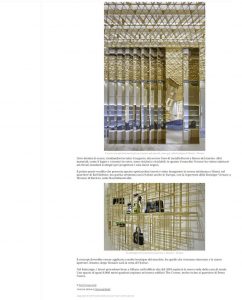 Just passed into the hands of Michael Kors, Versace, through the new Capri Holdings company, renews its boutiques in depth. The Italian luxury brand called the French designer Gwenael Nicolas, creator of the Japanese studio Curiosity, in the past worked for Dolce & Gabbana, Moynat or Berluti, to develop the new layout of its stores.
The new concept offers a strong visual impact between futurist style and reminiscences of the past, through a fragmented effect structure, obtained thanks to a play of lights and mirrors, as well as through the mix of materials and the graphics of some diagonal lines, that cut spaces creating unexpected geometries.
Thus, the ceiling reflects the elements of a room, creating a kaleidoscope effect. Elsewhere, a brass grille allows light rays to filter from the ceiling, or a weave of gilded bronze lines, which serves as a support for displaying accessories, reminiscent of the flow and webs of the Web.
Gold dominates the scene, radiating throughout the store, through the use of different metals alongside the marble. Other materials, such as wood and glass mosaics, are recycled and recyclable, as the Versace brand wanted to adapt to high ecological standards to design its new stores.
The concept should be applied to many boutiques of the brand, between those that will be renewed and the new openings. Meanwhile, after Monaco it will be the turn of Florence.
Meanwhile, the works are progressing well in Milan, in the building that from 2019 will host the new headquarters of the fashion house. A space of almost 8,000 square meters housed in the new building The Corner, very close to the Porta Nuova district.