Versace open the new boutique in Florence
by Shopping Magazine – March 6th, 2019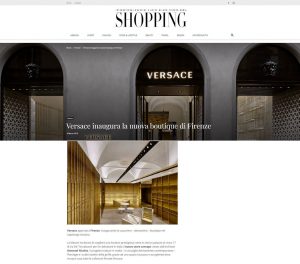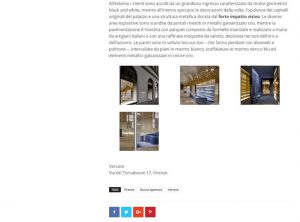 Versace arrives in Florence, inaugurating its first – long-awaited – boutique in the Tuscan capital.
The Maison has decided to choose a prestigious location such as the historic building at number 17 in Via De 'Tornabuoni to debut in Italy the new store concept created by the archistar Gwenael Nicolas. The project translates into reality – and with a decidedly contemporary look – the heritage and aesthetic codes of the brand, thanks to a luxurious and welcoming space where all Versace designer collections are housed.
Outside, customers are greeted by a grand entrance characterized by black and white geometric motifs, while the interior features vault decorations, the opulence of the original capitals of the building and a golden metal structure with a strong visual impact. The various exhibition areas are marked by portals covered in gold-galvanized metal, while the flooring is covered with parquet composed of inlaid tiles and hand-made by Italian artisans or with a refined living room carpet, declined in shades of gold and blue . The walls are in ton-sur-ton velvet – which pendant with sofas and armchairs -, interspersed with white marble tops, black or blue marble shelves and galvanized metal elements in gold color.