First Moncler boutique opened at Hamad International Airport
By TTGMena Online – 30 January  2017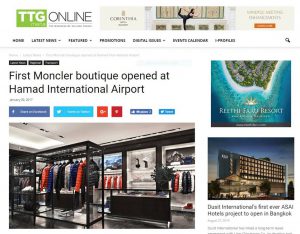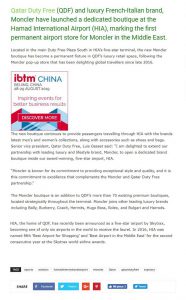 Qatar Duty Free (QDF) and luxury French-Italian brand, Moncler have launched a dedicated boutique at the Hamad International Airport (HIA), marking the first permanent airport store for Moncler in the Middle East.
Located in the main Duty Free Plaza South in HIA's five-star terminal, the new Moncler boutique has become a permanent fixture in QDF's luxury retail space, following the Moncler pop-up store that has been delighting global travellers since late 2016.
The new boutique continues to provide passengers travelling through HIA with the brands latest men's and women's collections, along with accessories such as shoes and bags.
Senior vice president, Qatar Duty Free, Luis Gasset said: "I am delighted to extend our partnership with leading luxury and lifestyle brand, Moncler, to open a dedicated brand boutique inside our award-winning, five-star airport, HIA.
"Moncler is known for its commitment to providing exceptional style and quality, and it is this commitment to excellence that complements the Moncler and Qatar Duty Free partnership."
The Moncler boutique is an addition to QDF's more than 70 existing premium boutiques, located strategically throughout the terminal. Moncler joins other leading luxury brands including Bally, Burberry, Coach, Hermès, Hugo Boss, Rolex, and Bulgari and Harrods.
HIA, the home of QDF, has recently been announced as a five-star airport by Skytrax, becoming one of only six airports in the world to receive the laurel. In 2016, HIA was named fifth 'Best Airport for Shopping' and 'Best Airport in the Middle East' for the second consecutive year at the Skytrax world airline awards.
Link: http://www.ttgmena.com